INDIA'S YOUNGEST ENTREPRENEURS - DEVELOPING MOBILE APPLICATIONS - SHRAVAN KUMARAN AND SANJAY KUMARAN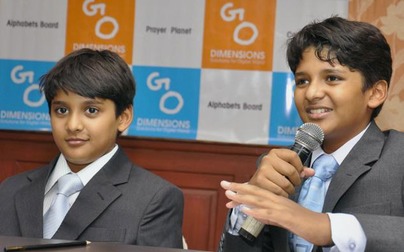 Shravan Kumaran n Sanjay Kumaran
In the past two years, the two have developed eleven apps that are available on the Apple App Store and Google's Android Play Store. The apps have received over 35,000 downloads. Their first app – 'Catch me Cop' on the Apple App Store -- was released last year and was a hit. That was a game where a con escapes prison and a wide hunt is launched for him. There are chases through a desert, beach and a maze.
Shravan Kumaran and his younger sibling Sanjay Kumaran are perhaps India's youngest entrepreneurs. Shravan, 14, is the president and Sanjay, 12, is the CEO of Go Dimensions, an app development unit that they founded two years ago from their bedroom in their home in Chennai.
Describe your field of excellence
Shravan - Mobile application programming is our field of excellence. Sanjay - Graphics, designing, ideas & making applications
Who was the first to recognize your talent in Mobile Application?
Shravan - Our Dad, spotted our talent when we were really young, he observed that we were able to learn computer (programming) quite easily. Sanjay - We picked up programming very quickly when our Dad started to teach it to us and we picked up Mobile programming by ourselves.