Areas of Excellence: Chess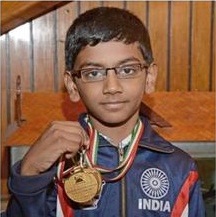 L.N.Ram Aravind
Nine-year-old chess whiz Ram Aravind, the country's current youngest FIDE master. It was a sweet double for city boy L.N. Ram Aravind in the recently-concluded Asian Youth Chess Championship in Iran. A class 6 student of Kamala Niketan Montessori School here, he pocketed the under-10 title (open category) in the standard and blitz formats. The youngster achieved a similar feat two years ago when he bagged the under-8 title in both formats in the championship.
She has shared her exciting journey in the field of Chess for all of you @ Scooldudes.
Describe your field of excellence
My field of excellence is Chess. I took this because I am very good at calculating.
For how many years have you been learning?
For 6 years now….
What motivated you to start learning this sport?
When I used to accompany my elder brother to the tennis club, my brother's tennis coach identified my talent that I am good at pictures and calculations. That's how I was introduced to chess and got trained my professional coaches.
Who was the first to recognize your talent in Chess?
My brother's Tennis coach and my parents.
How do you juggle your time between studies and your passion?
I don't find any difficulties in handling both.
Who is your role model?
Magnus Carlsen (Norwegian chess grandmaster and former chess prodigy who is the No. 1 ranked player in the world.)
What is your ambition in life?
To become a grandmaster in chess and a doctor my profession (heart surgeon)
What are the unforgettable moments in your life?
During my recent chess tournament, I was in 9th position. There were 8 more participants leading me. Among the 8, 7 participants lost and 1 participant withdrew and I was moved on to the 3rd position. This was an unforgettable moment in my life.